 Vinnie, aka "The Pocket Rocket " is a first call session/freelance drummer residing in South Africa. He completed his music studies @ Pretoria Technicon Jazz department in 1995, and have been in demand by all the top selling artists, producers, agents, and singers ever since.
Being one of the most versatile drummers around, he has recorded drums on approximately 3000 projects of various genres including Pop, Rock, Jazz Fusion, African, Country, Dance and World Music, for artists and producers across the globe, including South Africa, Mozambique, USA, Canada, Australia, Belgium, Holland, Greece, India, UK, Russia, Scandinavia, Italy, China and Saudi Arabia.
Vinnie worked on the MNET All-Africa film awards in 1997, as well as both the opening and closing ceremonies for the FIFA 2010 World Cup under musical supervision of " Mr. Lion King " himself, LEBO M and SA Jazz legend, Themba Mkize.
He has been one of the three house drummers for SA Idol for six consecutive seasons, under musical supervision of Johan Laas and also played on recordings for both East African and West African Idol, in addition to most African Idol winners and runner-ups.
In 2010, the call came from Los Angeles, and he got asked to play the 2010/2011 "Jai Ho World tour" shows at Sun City and Singapore, with multi-Grammy winner, AR RAHMAN, who composed the music for, umongst others, SLUMDOG MILLIONAIRE and 127 HOURS, under musical direction of legendary L.A composer/pianist John Beasley. He has since worked on numerous movie soundtracks for AR RAHMAN.
He also got the chance to play on the remake of Paul Simon's " The boy in the Bubble".
Vinnie also toured, recorded or shared a stage with artists to the likes of PJ POWERS, LEO SAYER, LA THE VOICES (Holland), DEMIS ROUSSOS (Greece), STEF BOS (Belgium), European Hammond Organs ambassador DIRK VAN DER LINDEN, and upright bassist JEAN VAN LINT (Belgium), ex "Blood, Sweat and Tears" trumpet player BRUCE CASSIDY'S HOTFOOT ORCHESTRA (Canada), POPS MOHAMMED, DAVE KOZ (USA), VINEYARD in London, "Rockstar Supernova" female rock sensation DILANA (USA), and International multiplatinum recording artist PATRIZIO BUANNE. He was also the house drummer for two different productions at London's " THE ROYAL ALBERT HALL". RTL TELEVISION in Holland also made use of Vinnie's services on a regular basis, with anything ranging from Pop to Big Band.

He also recorded on 12 movie soundtracks so far, recorded on 22 dvd's, played on a number of DSTV identity themes, recorded on various advert jingles, played at every major music festival in S.A., and performed/recorded with all the classical Orchestras, SA has to offer, under the batons of Maestros EDDY CLAYTON, JB ARTHUR, GRAHAM SCOTT, Prof. ERIC RYCROFT, BRAD HAAK(New York), MARK CHEYNE, Dr. MICHAEL BARRET and RICHARD KOCK.
A great achievement in his career came in 2015, when the Wouter Kellerman and Ricky Kej instrumental album that he played on, "Winds of Samsara" won the GRAMMY AWARD for catagory "Best New Age album".
2017 Marked another highlight in Vinnie's career, when some recordings he played on, under producer LEBO M once again, led to a 5 month trip to Toronto, Canada. Vinnie along with one other South African musician, got invited to be part of the SOUSATZKA MUSICAL creative team, that made its debut in Toronto, and is destined for New York.
Vinnie is the designated recording and performance drummer for 10 years now, for the SONY MUSIC sold-out concert "KRONE" (TOPPERS), featuring an All-Platinum selling SA cast.
He is also the resident drummer for CAPITAL SINGERS, a show happening 3 times a year, (under the batons of Christo Burger, Dr. Michael Barret, and musical direction of Janine Neethling) consisting of a 1000-piece choir, with orchestra, and featuring artists to the likes of Gloria Bosman, Timothy Moloi, Tandeka, Vicky Sampson, Magdalene Minnaar, Corlea Botha, Joseph Clark, Jonathan Roxmouth, Coenie De Villiers, and Nadine.
Vinnie is currently the resident drummer for popular band WATERSHED, and is a PRO-VERIFIED, musician on the international freelance platform FIVERR, where is has already excelled to a TOP RATED seller with all-round 5-star ratings.
Vinnie is still highly in demand as one of the most recorded freelance drummers in South Africa, and the proud owner of his personal recording studio THE DRUMROOM.
Whether it is for touring or recording, Hard Rock or World Music, this talented musician, known for his accommodating nature and sense of humor, is more in demand than ever, and will be a great attribute to any band, tour or show.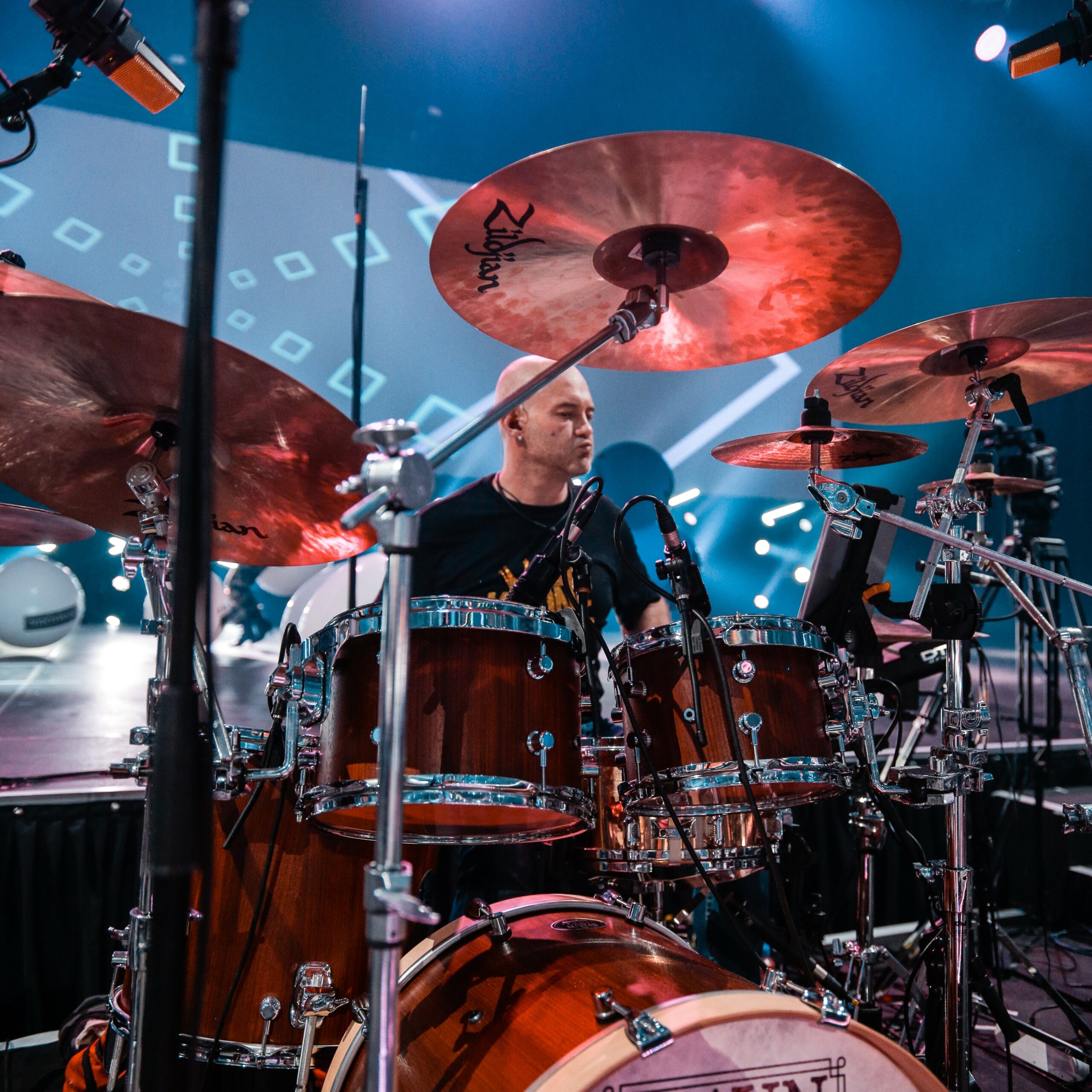 WHAT INSPIRES YOU TO MAKE MUSIC?
The fact that music is a CALLING, not a job. I get to do what I love, every single day of my life. Straining as it might be some days. I dont see myself as a drummer, but rather a musician that plays drums. I also sing, and I would like to think that I have a fairly good understanding of different instruments and their capabilities. You have to in this game. It is never only about YOU. ANY good honest piece of music inspires me. Regardless the style or genre. You will find anything from Beethoven to Breaking Benjamin in my collection. When I hear a piece of music for the first time, the gears automatically starts turning upstairs. Figuring out what the perfect part would be to play( if something like this even exists). I see it as a "composition" or "arrangement", rather than a generic rhythm part. I just LOVE creating on the spot! It excites me. The end result being unique, or "custom". That is what I want to offer my clients. I want to build trust with them. Make them feel safe. Make them smile! Whether on stage, or in the recording studio. And a good sense of humor never did any harm….:)

IF YOU COULD COLLABORATE WITH ANY MUSICIAN, WHO WOULD IT BE, AND WHY?
There are just to many to mention, both locally and international. This world is full of wonderful musicians, and I had the privilege of working with some amazing ones. But if I have to mention ONE that I would just love to colab with, it would be STING. For me, he is the perfect blend between being an amazing artist, and a phenomenal musician.( Believe me, they are not always the same thing). His knowledge of harmony, melody, poetry and time, is second to none! I think it must be a life-changing experience spending time with him and his philosophical wisdom. But that being said: You learn from every artist or musician you work with. Whether younger, older, more experienced, less experienced; we all bring something to the musical table. Experience and a love for the craft teaches you to embrace that.

WHAT IS YOUR FAVOURITE ZILDJIAN CYMBAL AND WHY?
Can I pick 2?…:) My 15′ A-New Beat Hi Hats: I have 5 hi hat pairs, but my New Beats have been recorded on the majority of my work. There is a reason why they are the most recorded hi hats on the planet. My 22′ Kerope Ride: It does EXACTLY what a Ride is supposed to, in my opinion. Non-intrusive, yet present. Gentle, yet with Authority. It will work for anything from Jazz to Country! But that being said: I play K-Special drys, K Sweets, Kerope's, Avedis and K-Darks. They all have their place. I could cope without a single one of them!