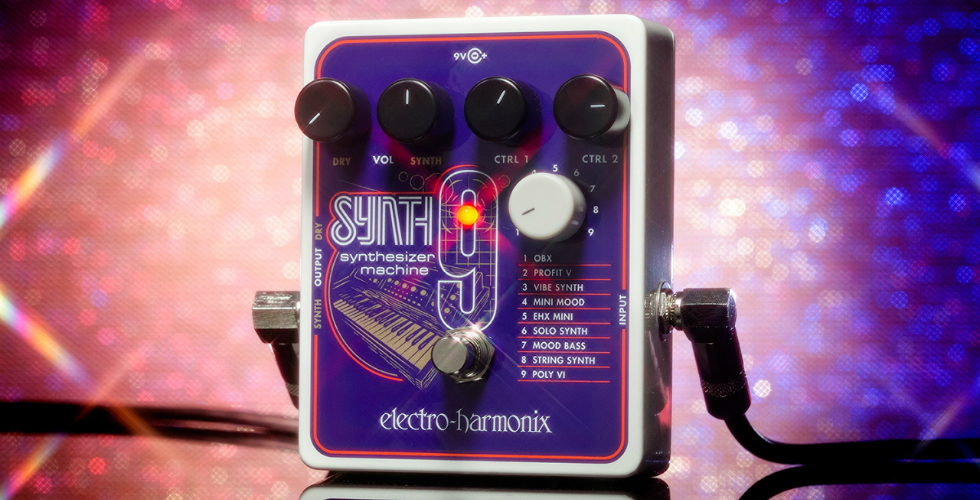 The SYNTH9 means guitarists and bassists that love the sounds of vintage synths can rejoice!
Electro-Harmonix has recently introduced the Synth9 Synthesizer Machine to join the already successful range of pedals the B9, C9, Key9 and Mel9. These pedals emulate everything from classic electric pianos to organs to the tones of the Mellotron.
Transform your guitar by emulating some of the most sought after vintage synthesizers. This pedal comes loaded with 9 presets that emulate classic synths from Moog to Oberheim and much more.
Here Are 9 Reasons You Need The SYNTH9 Synthesizer Machine.
1. OBX
Firstly, on the list is the OBX setting. This is a classic multi-voice synth with a tone control and a knob to adjust the four octaves.
2. Profit V
The second synthesizer in your SYNTH9  box of synths and tricks is inspired by the famous 1980 analogue synthesizer. Dial in the exact sound you want with an envelope filter control and the ability to adjust the intervals of the top synth voice.
3. Vibe Synth
Mix things up with the third preset. The Vibe Synth setting with a delayed vibrato.
4.  Mini Mood
Unlock that unmistakable portamento sound of gliding from one note to another while you pick. The two control knobs let you adjust the glide volume and speed of the glide.
5. Classic EHX Mini Synth
Tried and true! The Classic EHX Mini Synth setting gives you a reversible envelope filter sound with a huge four-octave range.
6. Solo Synth
The sixth Preset setting on the SYNTH9 Synthesizer Machine combines the sound of a square wave guitar with a four-octave synthesiser.
7. Mood Bass
Bring the sheer bass fatness with the Mood Bass setting. With the active three bass synth with an adjustable envelope filter and octave selection knob, you will be sure to shake the planet.
8. String Synth
You cannot go wrong with a bit of good old fashioned classic analogue string emulation. Tweak your high-end tone and allow your strings to fade in after you have picked them with the envelope control.
9. Poly V
Bringing up the rear is the Poly V analogue synth sound featuring a sweeping filter and deep modulation. The dual controls let you adjust the tone and modulation depth.
The SYNTH9 Synthesizer Machine from Electro-Harmonix has a huge host of Synth sounds to keep even the biggest synth enthusiast happy. Lovers of ELP, EVH, Kraftwerk, Joy Division, P-Funk and Peter Gabriel will definitely find much enjoyment in this new unit.
Read more about the SYNTHY9 at EHX.com