The Spirit Of Jazz in the Lasalle Series JZ3
The spirit of jazz just jumps out of the Greg Bennet Lasalle Series JZ3 guitar into your amp. This beautiful hollow body archtop jazz guitar gives you that sweet Jazz sound you've been looking for.
The JZ3 Belongs In Smoke Filled Jazz Clubs
Apart from sounding the part, the Lasalle Series JZ3 looks like it belongs in the smoke filled jazz club of yesteryear in New Orleans.  The JZ3 has that classic Jazz look and feel. Maybe it's the F-hole or the shape of the pickguard or one of the other details that just give it that Jazz feel. When it's in your hands you cannot help but swing and groove.
The JZ3 has a quilted maple hollow body with a single florentine cutaway. Paired with a mahogany set neck and Rosewood fingerboard, you get a beautiful medley of tones. The Maple wood gives you that tonal bite complemented elegantly by the sweet warm tones of the Rosewood.
The iconic Jazz tailpiece on the JZ3 is finished in gold, along with golden hardware and a gold adjustable bridge. It just makes it look like a million bucks! The golden Grover A102G tuners make sure that you're always good as gold when it comes to being in tune.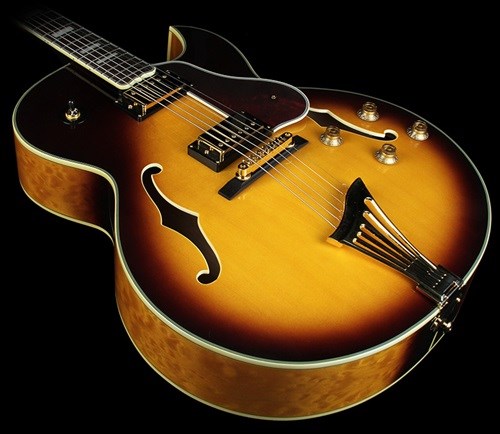 Duncan Design HB101 Humbucker
Dish out some vintage style tones with the Duncan Design HB101 humbucker pickups. These pickups push out some sweet sustain and full-bodied chords. This all-rounder gives you a clear and bright attack along with enough low end to add a complex texture to your clean sound. These pickups were imperative to bring out the tone and character of this classic design.
Swing and Shuffle
Using the 2 volume and 2 tone controls you can dial in your specific sound. The 3-way selector switch lets you glide between your neck or bridge pickup, or find that tasty blend of both.
If you're looking for a jazz guitar to swing and shuffle with, and play that textural sweet Jazz get your hands on the JZ3.