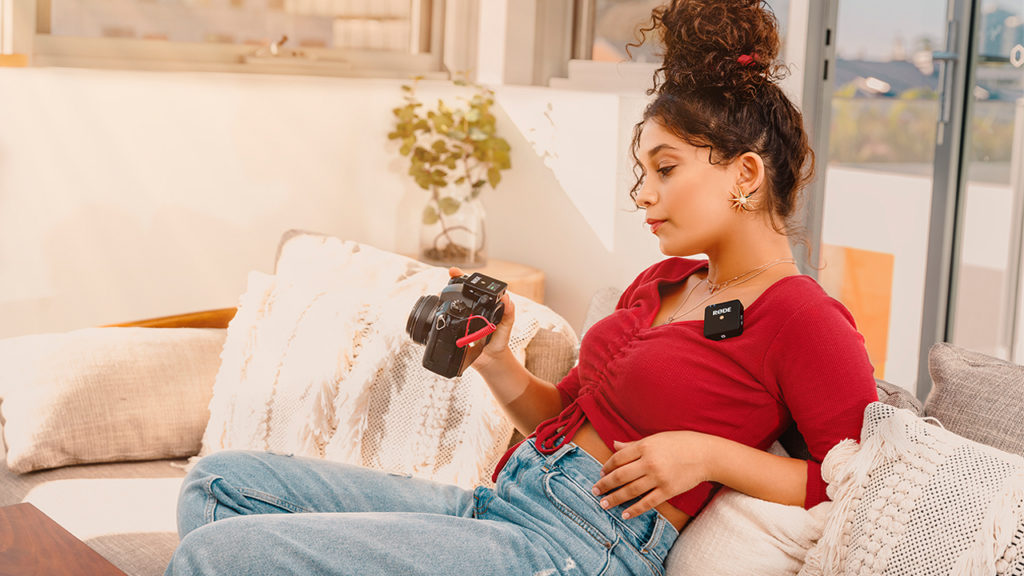 Filmmakers and videographers, vloggers and journalists, musicians and audio engineers, educators and business professionals – wireless mics are an essential piece of kit for a wide range of content creators, and the RØDE range covers a lot of bases. Two of our most popular offerings are the best-selling RØDELink Filmmaker Kit – which has been the industry standard in on-camera wireless audio since its release back in 2015 – and Wireless GO, the world's smallest and most versatile wireless mic system.
What Are The Similarities and Differences?
Transmission Type
Both the Filmmaker Kit and Wireless GO use 2.4GHz digital transmission with 128-bit encryption to deliver broadcast-grade audio from the transmitter (TX) to the receiver (RX). This is a license-free radio frequency (RF) in every country, meaning they can be used anywhere in the world without any issues. They also both utilise a frequency agile system that automatically seeks out and hops between the best frequencies to maintain the strongest possible signal at all times.
Range
Wireless GO will hold a strong, clear signal up to 70m, and even beyond in some conditions. It is important that line-of-sight is maintained between the RX and TX at greater distances to ensure a solid connection. Wireless GO has been optimised to excel in dense RF environments – anywhere that a lot of wireless technology (Wi-Fi, Bluetooth, cordless phones etc) is being used. This includes shopping malls, convention centres, offices, crowded urban spaces, even your own home.
The Filmmaker Kit has greater range – 100m and beyond in ideal conditions – and will help ensure a strong signal is maintained even when there may not be line-of-sight between the receiver to the transmitter.
Microphone Type
One of the key reasons that Wireless GO is such a versatile wireless solution is the omnidirectional microphone built into the TX pack. With such a compact form factor, this means it can simply be clipped onto a shirt, tie, jacket or any lapel and you can be recording in seconds – truly wireless audio. For even greater flexibility, it also features an 3.5mm mic input, so you can connect your favourite lav. 
The Filmmaker Kit is a more traditional wireless system, with a 3.5mm TRS socket for use with a lapel mic. It should also be noted that the Filmmaker Kit is compatible with locking lavalier mics, making it suitable for more rigorous shooting situations, whereas the Wireless GO features a standard 3.5mm TRS mic input for a quick and easy lav connection.
Both the Filmmaker Kit and Wireless GO can be used with a headset mic like our HS2. You can also use an XLR mic with either system, however, the mic must be self-powered as neither provides phantom power. To do this, you will need an XLR to 3.5mm TRS cable. As the Filmmaker Kit is part of the RØDELink range, it can also be used with RØDELink transmitters with other form factors, including an XLR plug-on transmitter that can provide phantom power (the TX-XLR), and a handheld wireless microphone (the TX-M2).
Batteries
Wireless GO contains a high-quality in-built Lithium Polymer battery that is researchable via USB-C and lasts for up to 7 hours on a shoot – more than enough for most scenarios in the field. If you do require more juice, simply plug in a power pack and keep shooting! The battery will ensure reliable performance over a high number of recharge cycles, even with heavy usage, week-in-week-out. The Filmmaker Kit is powered by 2 replaceable AA batteries, which can power the units for over 30 hours, as well as micro USB.
Gain Control
The Filmmaker Kit and Wireless GO both feature handy gain controls to help ensure your audio is clean and clear at all times. Wireless GO offers a 0dB, -6dB and -12dB output pad on the RX. Whereas the Filmmaker Kit offers 0db, -10db or -20db output attenuation on the RX, plus a 0db, +10db or +20db gain switch on the TX, offering greater control over the dynamic range of your audio.
Stop by your nearest RØDE dealer today to try out our microphones and accessories for yourself!