Looking to get active? The Action DLX Plus now comes with Mark Bass active EQ electronics – giving you more control over your bass tone than ever before.
.
Made with high-quality components and craftsmanship The Action DLX Plus bass is the perfect, yet affordable workhorse for aspiring bass players of any style or genre.
Markbass MB-1 EQ
Getting the best acoustic nature out of this bass is easy with the Markbass MB-1 EQ electronics. The MB-1 EQ doesn't colour the natural resonance of the instrument. It lets the bass guitar's woods do the talking. The active electronics give a transparent boost to the sound. Easily switch to the passive or active mode with the switch, to hunt for that golden tone you're looking for.
.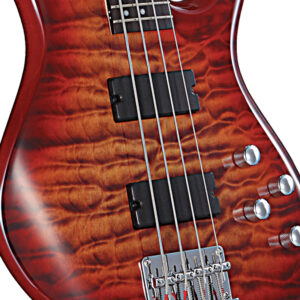 .
Tonal flexibility
The PDX Dual soapbar pickups were developed to give you maximum tonal flexibility. Whether you're looking for a bright middy tone or a darker thumpy one, easily blend your sound between the two pickups to find that sweet spot with the pickup balancer. Combined with the MB-1 EQ, this setup allows you to accurately dial in the specific bass, treble, and mid frequencies.
Construction
Bringing elements of the classics and modern designs, The Action DLX Plus is a double cutaway with a rosewood fretboard. The ergonomic body shape is made both made for comfort and functionality. This design helps aspiring bass players to reduce fatigue and increase playability. Perfect for those long practice sessions!
Featuring a Figured Maple top, a feature that is rarely found on affordable bass guitars. The matching figure maple headstock ties the bass together aesthetically.
Looking good
Available in a faded grey burst or cherry red Sunburst finish – because your first bass needs to look great as it sounds. The precisely manufactured die-cast tuners ensure that your bass stays in tune, giving you that confidence while you play.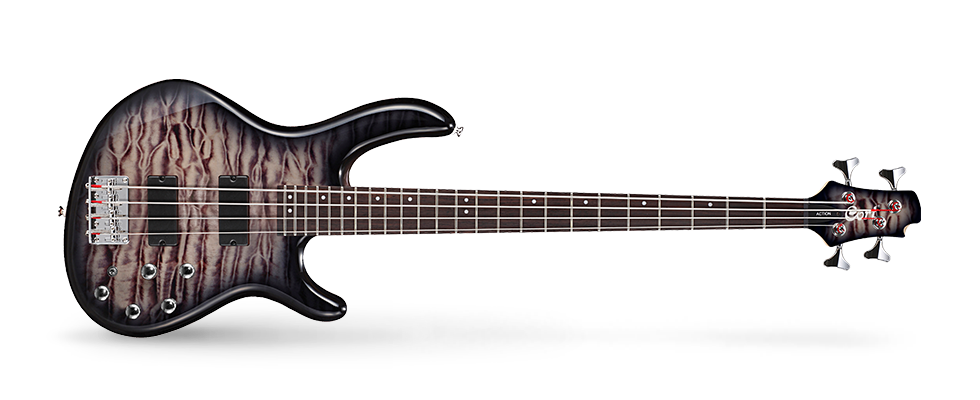 As an aspiring bass player, you'll be wanting a reliable, high quality and good looking bass. The Action DLX Plus is the perfect one up from entry level, for those who want to take their bass playing to the next level. It gives you a sneak peak into the world of premium level basses.