Capture Your Drums With The Carol GODK-7 Drum Mic Set

Capture Your Drums With The GODK-7 Microphones
Built to withstand years of stage abuse and studio use, the Carol GODK-7  drum microphones are perfect for up and coming musicians. They're the perfect addition to any home studio or a live setup.
Over the last 40 years, Carol Electronics has been dedicated to producing some of the most reliable and best quality microphones in the industry. The GODK-7 drum kit series collection is a testament to this.
The Full Kit
In the durable hard-shelled plastic case you will find 7 microphones. Made up of 4x GO-23 dynamic microphones, 1x GO-25 kick microphone and 2x Go-25 condenser microphones. You can rest easy knowing that you'll be able to capture all your drum sounds with this combination of microphones.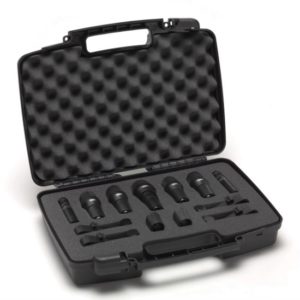 GO-23
Firstly, for the toms and snare drum, you can make use of the 4x Supercardioid GO-23 dynamic microphones. Capture those warm, crisp and punchy sounds. These Specifically engineered mics are perfect for close miking of snare and tom drums.
GO-24
Secondly, capture those meaty bass drum kicks using the bi-directional GO-24 dynamic microphone for kick drums. Specifically designed to capture low frequencies. Accurately reproduce your impressively solid bassy sounds.
GO-25
Lastly, the two GO-25 condenser microphones will take care of your cymbals. Using these microphones as an overhead will ensure you capture the clear and natural sound of your cymbals in exquisite detail. Making use of both Carol condenser microphones will capture the stereo image of your kit perfectly.
Never Miss A Beat
The GODK-7 Microphone drum kit series comes with all the necessary microphones and attachment options to professionally capture and reproduce your drums in a live environment or in the studio.
For more information on Carol products visit their website: HERE