Go Wireless With The RØDELink Filmmaker Kit
Tired of being tied down with wires when filming? The RØDELink Filmmaker Kit provides everything you need to start shooting video wirelessly.
Keep It Practical
Let's face it, sometimes when filming it is just not practical to have microphone wires running to your talent. Whether your talent is just moving around too much or they are just too far away, it becomes a very impractical situation. Eliminates the need for cables with the RØDELink Filmmaker Kit.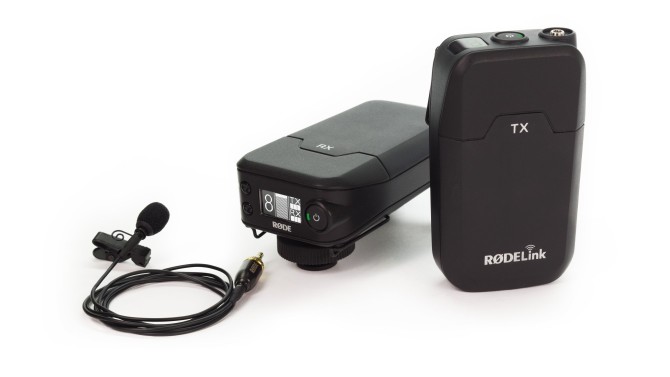 The kit is made up of an RX- Camera mounted Receiver (RX-Cam), Beltpack Wireless Transmitter (TX-Belt) and broadcast-grade Lavalier Lapel Microphone. Both the RX-Cam & TX-Belt can be powered by micro-USB cables or via two AA batteries.
RX- Camera mounted Receiver
The RX-Cam features an OLED display with all the pertinent information you require while filming. Information about the levels, battery status (both receiver and transmitter), mute status and channel selection settings are made readily available.
Beltpack Wireless Transmitter
The TX-Belt comes with a locking microphone connection and a locking mute button, to avoid any accidental loss of audio. This lightweight unit is easy to use with only a simple on/off button. By using the metal clip on the backside, the TX-Belt can easily be fitted to any clothing or belt.
Transmitting across a Series II 2.4GHz digital transmission with a 128-bit encryption.  This ensures that your audio is just as reliable and secure as a cabled connection. The unit provides a 24-bit 44.1khz digital audio signal, giving you lossless audio transmission up to 100m.
Lavalier Lapel Microphone
Capture broadcast quality audio with the omnidirectional Lavalier Lapel Microphone. This nifty little microphone can be attached to the talents clothes or under them should you want to be more discrete.
The Next Generation
The RØDELink Filmmaker Kit is the next generation of digital wireless systems. Giving beginners or pro level filmmakers the flexibility and ability to focus on filming, this kit makes shooting with high-quality audio a breeze.