The GJ 100 SCE Electro-Acoustic Guitar
The GJ 100 SCE guitar is a versatile guitar that will meet the demands of all players and genres of music. This electro-acoustic guitar finds itself under the intermediate range from Greg Bennett Guitars. It's a great option for guitarists that are looking to perform live or are just looking for a step up into a higher quality option.
Thunderflex Bracing System
This jumbo cutaway acoustic features the all new Thunderflex bracing system. This bracing gives the guitar a much louder and richer sound compared to others. The jumbo size of this model provides a deep and beautiful resonant tone. Even unplugged, you are going to hear every glorious note you play perfectly.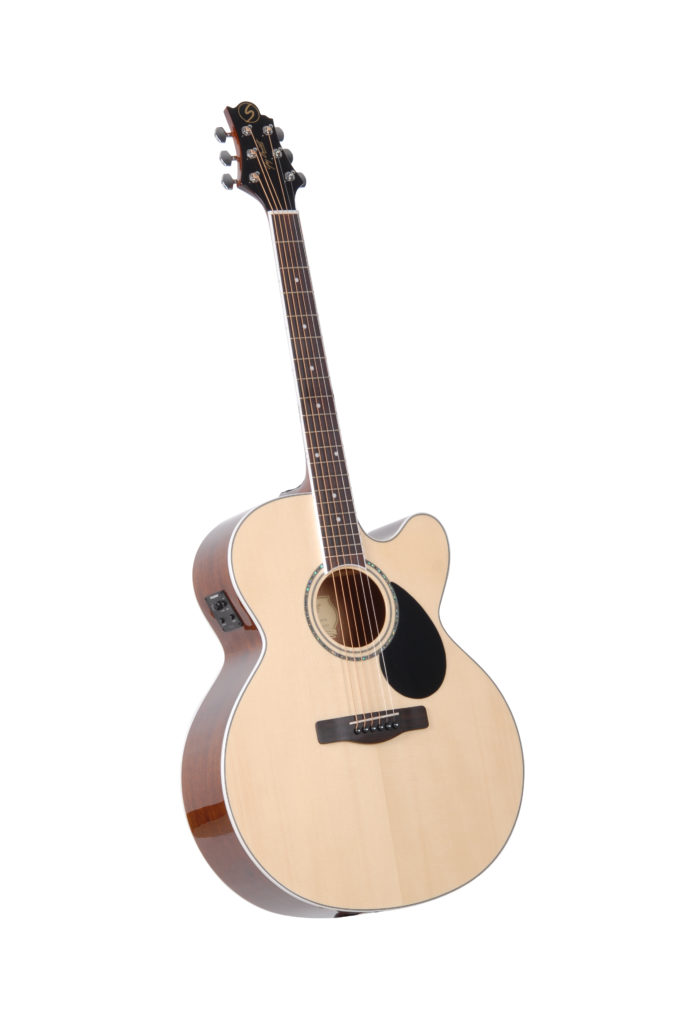 An Amalgamation Of Tone
Made from dense mahogany wood, the neck and body of the GJ 100 SCE deliver a warm amalgamation of low frequencies yet still give you clarity in the midrange, as well as those well-rounded highs. The solid Spruce top helps pronounce and articulate the highs, giving you more tonal diversity.
Tweak Your Sound
Tweak and fine-tune your sound with the Fishman Isys T preamp. Use the contour and phase controls to shape and manipulate your live sound when plugged into an amp or PA system. The onboard tuner ensures you never leave your all important tuner at home.
Increased Playability
Glide your fingertips over a beautifully crafted 20 Fret rosewood fingerboard with dot inlays, while you play those technical scale patterns or create those angelic chords. The 12″ neck radius improves the overall playability of the GJ 100 SCE .
No Substitute For Experience
A high performance and economically priced model. Whether you're a fingerstyle player or strumming away, the GJ 100 SCE delivers on all fronts. Greg Bennett's long-time guitar design experience can be seen in each model. You can see a great deal of thought goes into each model and how to keep it at an affordable price.