Fuzz Things Up With the Deluxe Bass Big Muff PI

Fuzz Things Up With The Deluxe Bass Big Muff PI
Bring your own flavor into your distorted sound. The Deluxe Bass Big Muff PI is the epitome of tonal versatility. This stompbox augments the classic Bass Big Muff Pi with new features that give the modern bassist, even more tone creating and shaping options.
Bring Your Bottom End To Life
Many bass players mourn the loss of their bottom end frequencies when they engage a distortion or fuzz pedal. With a full suite of controls, this pedal brings your bottom end back to life!
If you're a loyal fan of the original Big Muff pedal you can see the sustain and tone dials are still there, letting you dial in your favorite settings. The Deluxe Bass Big Muff PI is not as scary as it looks – just improved.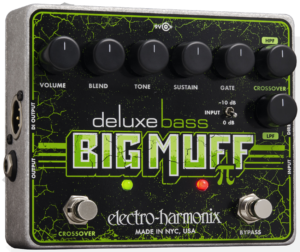 .
Blend Things Up
The new blend control lets you mix your pre-effect signal with the distorted sound, enhancing the low-end tone. You can also remove unwanted noise from your distortion with the new built-in noise gate control.
Low And High-Pass Crossover Filters
Smooth out your distorted sound with the switchable low and high-pass crossover filters. These filters allow you to shape & contour your distorted and dry tones. The low-pass filter is added to the dry signal and the hi-pass filter positioned ahead of the distorted sound in the circuit. Create that perfectly tweaked distortion.
Active & Passive
The Deluxe Bass Big Muff also now accommodates active & passive basses better with the switchable 0dB/-10dB input. Most pro bass players want to use a pedal on stage and when recording. Direct and DI outputs give you the ability to easily do both. Split your dry signal and main output with ease.
Fuzz It up!
Fuzz things up with this deluxe pedal! A tried and true stompbox that has some new tweaks and features.  Unlock so much more freedom to be that sonic fuzz architect you have always wanted to be.