A New Paradigm In The World of Strings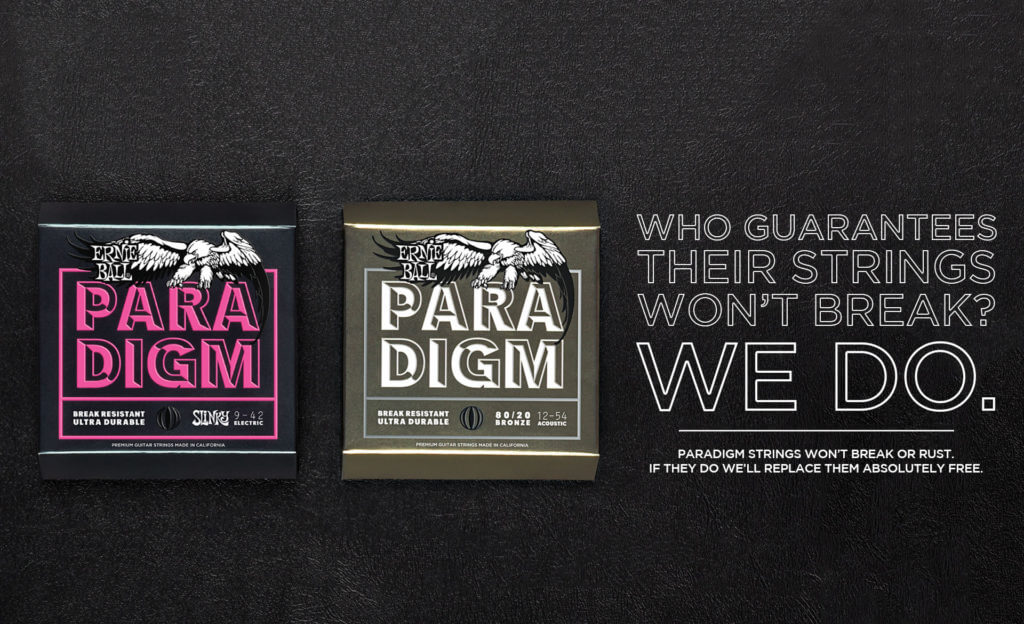 W
hat's stronger than John Pertrucci and Wayne Shepard?
Apart from sounding like the start of a lame joke, it's the new Ernie Ball Paradigm Guitar Strings.
Your days of string snapping are over. The world's most advanced guitar strings are coming March 2017. The new Paradigm Strings feature superior break-resistance and unparalleled durability without sacrificing the Slinky tone.
"Paradigm represents the most advanced string technology ever created—and the first-ever to come with a fully backed guarantee: If Paradigm strings break or rust within 90 days of purchase, Ernie Ball will replace them free of charge."
Stronger Than Before
The new strings tensile strength has increased hugely by 37% and provides up to 70% more fatigue strength than traditional coated strings. Through using their new state of the art wire drawing process and patented RPS (reinforced plain string) technology, Ernie ball has made the strings stronger than before.
More Durable
Sweat and dirt build up is practically a thing of the past. Each string has improved corrosion resistance coupled with Ernie Ball's patented Everlast nanotreatment. Your strings will hold their Slinky tone longer while staying crisp, clean and fresh show after show.
Keep That Slinky Tone
Not to worry, you'll still have that legendary slinky tone at your fingertips with the Paradigm strings. Unlike other coated strings there is no difference in feel. You can even get the Ernie Ball Paradigm for your acoustic which are quickly becoming a top rated acoustic guitar string.
Over the last few months, Ernie Ball has been giving guitarists the opportunity to put the beta strings through their paces. Many have tried and failed! John Petrucci, of progressive band Dream Theatre stated "These new Paradigm strings somehow withstood the most severe and cruel punishment I could muster up without actually breaking the guitar itself! They are crazy strong!!"
See Petrucci Fail Below
Want to keep ahead of the curve? Sign up to receive updates on our groundbreaking new Ernie Ball Paradigm electric and acoustic guitar string technology.