The GT-1 multi-FX pedal for the traveling player
The GT-1 for the traveling player, who can't decide what to take.
The GT-1 is the new multi-FX pedal from, Boss. This bit of high-class technology is ultra-portable and simple to use. This pedal lets you take a huge variety of world-class amp tones and effects for all genres wherever you go.
It takes the flagship-class BOSS sound engine and crams it into a light & compact pedal unit, perfect for squeezing into your guitar bag. The flagship-class GT sound engine gives you the highest level tonal quality and sound-shaping that's unrivaled by any other multi-effects unit. Play with the classics like the OD-1 overdrive all the way through to the modern age effects powered by MDP technology. Unlock a massive selection of different amp tones at the tap of a foot. Do you like fiddling hours with specialized guitar effects like acoustic simulators? Well, this pedal has you covered too. If you thought they crammed enough into this pedal you are wrong, it even has a loop function & expression pedal built in.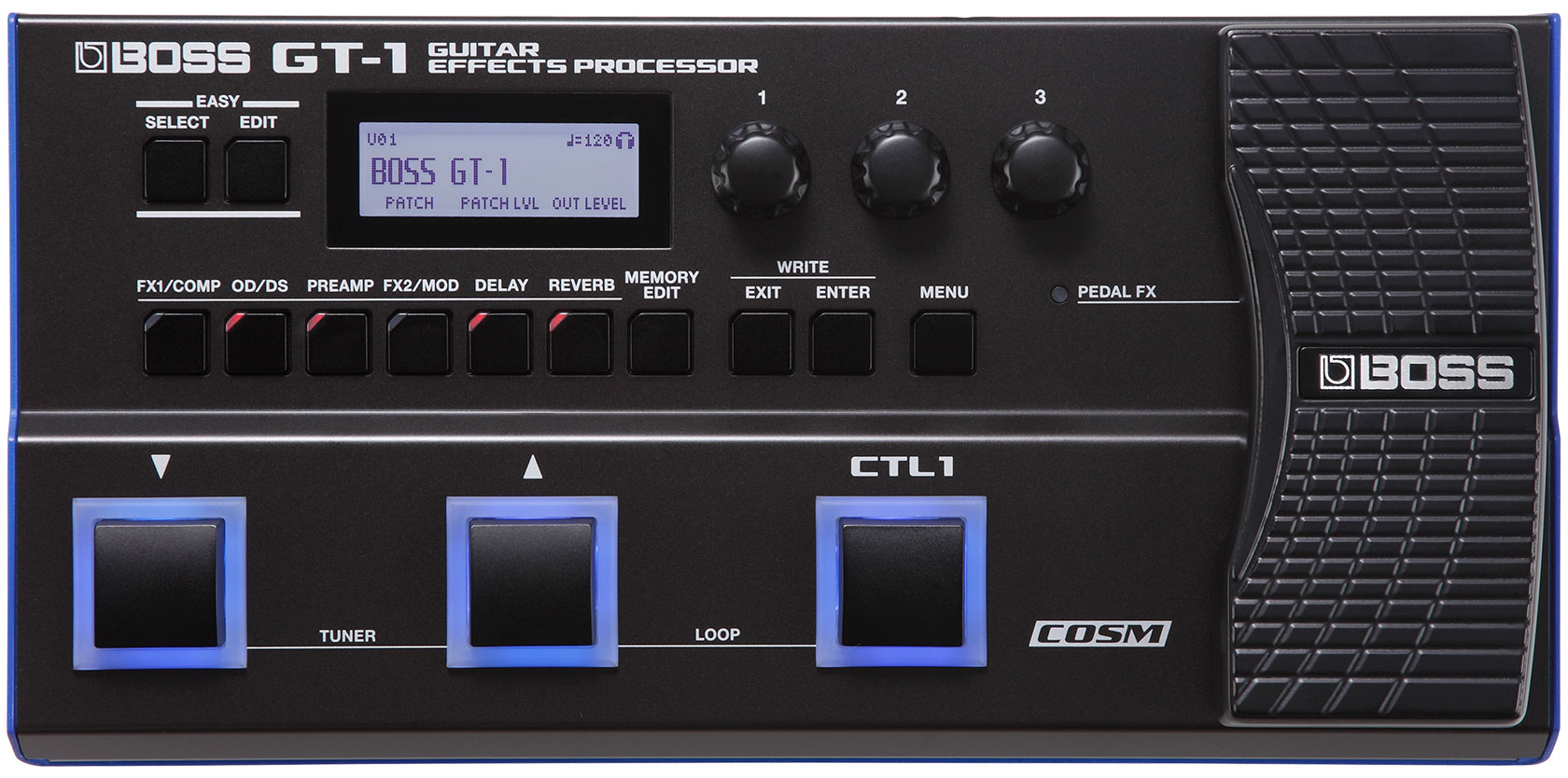 Tweaking your patches has never been easier with its easy select and easy edit functions. Novice players will be able to get sound straight off the bat, while pros will appreciate how quick and easy it is to tweak the sounds. Adjust your effects to find that sweet spot of sound you can hear in your head.
The GT-1 makes use of three footswitches which are designed to provide patch selections, tuner access, looper controls, tap tempos and more with minimum tap dancing. Minimum tap dancing on your pedal means more time to focus on what you're playing.
This multi-fx pedal is truly perfect for the player on the move. Four AA batteries provide you with seven hours of playtime. The GT-1 is where mobility meets performance. You won't want to leave home without it!